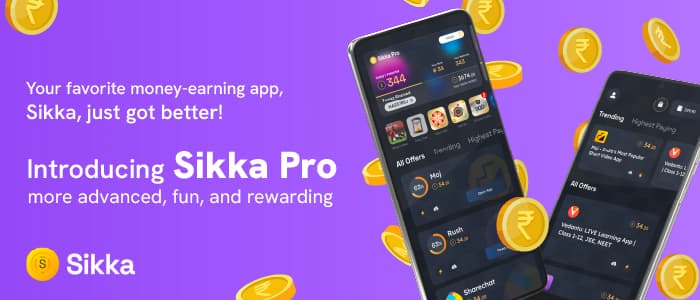 How Is Sikka Pro Better Than Sikka?
Sabqat Ruba
Published on May 9, 2023
Sikka was released in November 2021, an app that offers cash rewards on completing specific tasks. It is a free Android app that you can download from the Google Play Store and log in to start earning exciting rewards.
With Sikka, you can earn coins (sikkas) every day by completing simple tasks. The coins are deposited in your Sikka wallet as you receive them. You can redeem them into your bank account through UPI whenever you wish.
So, what's so exciting about Sikka?
After achieving more than 1 million downloads and positive reviews and ratings (4.1 on Google Play Store) from our users, we decided to up the reward game!
But for those who don't know what Sikka is about, here's all you need to know.
The Sikka app is highly rewarding as it offers many easy ways to earn money… for free… and with no investments at all! Moreover, you get a chance to make cash benefits on a daily basis. How does it all happen? Read on to learn.
Complete daily offers with the apps integrated within Sikka and earn coins.
Refer the Sikka app to your friends and win exciting rewards.
Spin the wheel of offerings any time and gain unlimited sikkas.
Transfer your rewards to your bank account, or UPI anytime.
Now that we have the upgraded version of Sikka, which is Sikka Pro, let's see how it makes a difference for you.
How is Sikka Pro better than Sikka?
Sikka Pro has more exciting features that offer better rewards and ensure a better experience. Here's a list of the features of the advanced Sikka Pro.
Opportunity to win more: Our rewards are now bigger and better. You can win higher amounts through referrals, spin and win, and other activities. Withdraw more with updated withdrawal limits!
Daily check-ins: Gain rewards just for using the app; isn't that simple? Check in to the app every day to double your daily winnings.
Daily tasks: Look out for daily tasks. You get new tasks every day, and you can earn sikkas on completing them.
New offers: Get brand new offers on your plate on a daily basis. Complete the offers and claim your rewards.
Fun and free games: More fun games have been added to Sikka Pro. And they are all free to play!
News section: Get updates about the latest events in the all-new News section.

Sikka Pro vs. Sikka
If you're looking for simple ways to earn, Sikka is the go-to. With no investment or membership hassles, you can have an effortless experience with this daily earning app. Give it a try!
Similar Blogs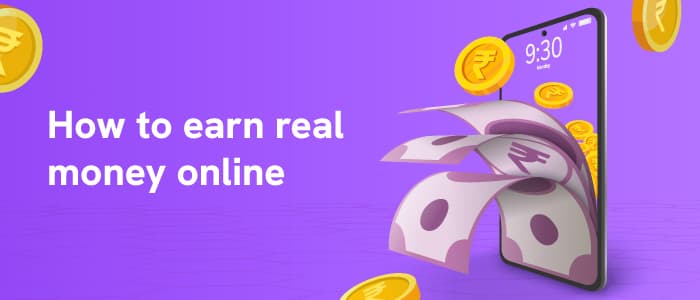 Jun 2023
Earning money online has become the most widely used option by those looking to supplement their income. People who are looking to make quick and easy cash from the comfort of their homes are increasing daily and these apps have provided a proper channel for earning money online. There are gaming and cash-making apps that enable users to earn real money online with ease.