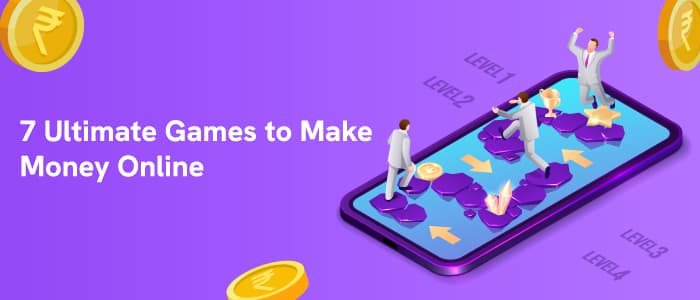 7 Ultimate Games to Make Money Online
Sukanya VS
Published on June 16, 2023
Online games have always been a source of entertainment but today, they have transformed into a popular way to make money. Online earning apps enable players to earn substantial money while doing what they love the most- playing.
From sports-based games to skill-based strategy games, the digital landscape is filled with numerous games that offer you the opportunity to supplement your income. This article will discuss the best money-making online earning apps that will enable you to monetize your gaming skills.
Types of online games that pay well:
Choosing the right games that you excel at is essential to make your earning process effective. Some online earning apps or games that pay the players well are as follows.
Arcade games
Strategy games
Fighting games
Sport-based games
Casino or gambling games
Slot games
7 popular money-making online games
Let us examine some of the most popular online games that serve as the ultimate earning apps.
Dream11

Cost: Free

Supported on: Android and iOS




All cricket enthusiasts are familiar with Dream11, a fantasy cricket online earning app that can help you earn money effortlessly. You can create your team of 11 players and compete against other teams in a match. As the match progresses, the performance of your selected players will determine how many points you earn in the game. This will in turn reflect as real cash in your bank account.

The game offers prizes in both national and international tournaments. This game has made earning money easy for beginners and professionals alike. By incorporating an easy-to-use interface, the game ensures every player has a fair chance of success.

Zupee

Cost: Free

Supported on: Android and iOS




Zupee is a mobile gaming platform that allows players to win Paytm cash by playing simple games. Every day you will be presented with a series of questions on a wide range of topics. Your task is to answer them correctly. You will be rewarded with Paytm cash as you accumulate a set number of accurate answers.

Zupee has an array of over 500 topics to choose from and play with. In this game, you can opt to play many small games like quizzes, carrom, Ludo, and more. The game has plenty of quizzes for beginners, giving everyone a fair chance to win cash. The game also offers the option of easily withdrawing your cash from UPI.

Loco

Cost: Free

Supported on: Android and iOS




Loco is a well-known gaming app with over 10,000,000 installations to date. Loco is famous for being able to engage multiple players simultaneously.

Loco invites players to take part in fun quizzes that take place in real-time. Even if you're eliminated, you're not out of the game just yet. Loco generously provides you with "lives" to revive your chances of victory and keep the game going. Cash prizes are promptly credited to the Paytm accounts of victorious players.

Junglee Rummy

Cost: Free

Supported on: Android and iOS




Rummy is a timeless card game that carries a rich history, enthralling players all over the world. Rummy has seamlessly transitioned into its online version and one such version is Junglee Rummy. With around 30 million players active at any moment, this online earning app has proven to be one of the most widely used money-making apps.

Junglee Rummy has multiple variations tailored to suit the preferences of many players. It also allows you to choose from exciting game formats, including points-based, deals-based, and pool rummy, allowing you to find the perfect match for your gaming style. You can participate in a plethora of tournaments and take your money-making journey to new heights.

Qureka

Cost: Free

Supported on: Android




Qureka is an online earning app that offers multiple options to both satisfy your desire to game and to make money. It has a constant stream of daily quizzes with hourly updates, always challenging the players.

The more questions you answer correctly, the more coins you will earn. These coins can help you win rewards or cash prizes up to INR 60,000. From general knowledge to sports, Qureka offers a wide array of topics that you can choose from. Apart from expanding your knowledge base, these quizzes are a real opportunity to earn money online.

10cric

Cost: Free

Supported on: Android and iOS




10cric is another famous fantasy cricket game that offers you a chance to create your team and win exciting prizes and money. In this game, you have the opportunity to assemble a team of 11 players from a pool of 30 talented individuals. With your budget in mind, you can participate in a variety of live tournaments to compete for victory and climb the ranks. If you have a limited budget, beginning with the domestic leagues is recommended. As you gain valuable experience and enhance your ranking through these leagues, you'll unlock the gateway to larger, more prestigious competitions on the international stage.

This online earning app offers tailored tournaments to cater to different budget ranges and provides regular updates to give an authentic gaming experience. With this game, you will be uniquely poised to play a game you love and also get prizes and money as you win more matches.

WinZo

Cost: Free

Supported on: Android and iOS




WinZo is a widely used online earning app to earn cash on the Internet. It has over 70 games for players to choose from and gain endless hours of entertainment, rewards, and money.

It has a user-friendly interface that ensures a seamless gaming experience for the players. It also ensures instant payment and withdrawal, eliminating unnecessary delays and making sure that your rewards are accessible.
Final words
In conclusion, online earning apps have enabled players to transform their gaming prowess into a sound money-making process. This has enabled players to play not just for fun but for financial freedom, knowledge expansion, and personal development as well.
Being a landscape where entertainment meets opportunity, online games have brought groundbreaking changes to the digital world by opening up multiple avenues for people to earn money.
Similar Blogs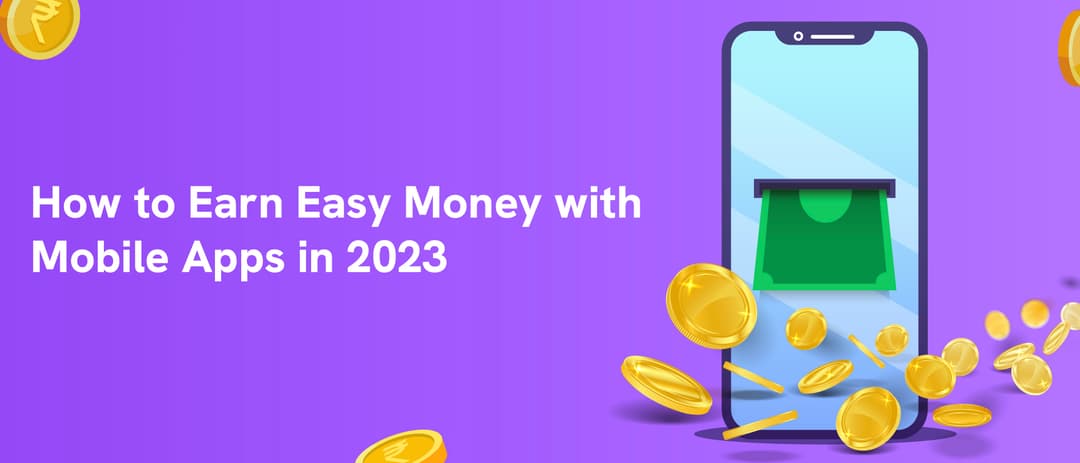 May 2023
Today's world has become increasingly digitized and technology has made its way into all our lives. Starting from communication to shopping for groceries, technology has ensured that it can all be done with a flick of our wrists. Making money online has also become an easy task since there are numerous apps in the marketplace to facilitate that. This has become exceptionally simple with the coming of free money-earning apps.