How To Earn Money Through Apps: Top 6 Methods With No Investment
Sabqat Ruba
Published on May 9, 2023
Did you know you can make money through apps? There are countless apps on the Google Play Store and App Store that can help you earn money with a few flexes of your fingers. You can play games, answer questions, watch videos, or perform other simple tasks to gain monetary rewards. And the best part is that it takes zero investment! Could earning money get any easier? We don't think so.
Below are some techniques apps employ to help you earn money, along with recommendations of the top apps that you can give a try.
Filling out surveys

Filling out surveys

Survey apps pay you to provide your feedback on various topics. The data collected from the surveys is mainly used for market research by either the app itself or external market research specialists. Brands or companies, for instance, use the survey data to understand the users' response to their products or services.

A popular example of survey apps is Google Opinion Rewards, where you get rewarded for sharing your opinion on market research surveys. The app offers surveys randomly, and you get credited depending on various factors such as the time required to answer the survey, the length of the survey, etc.

Other similar apps are Surveytime, Poll Pay, LifePoints, and Swagbucks.

Playing games

Playing games

Yes. You can get paid to play games on your phone. Get Paid To Play (GPT-Play) apps sell display space to game owners. When you play a game on a GPT-Play app, you gain rewards that can be redeemed in the form of gift cards, prepaid visa cards, etc. This in turn is profitable to both game owners and GPT-Play apps. The game sales increase as more users start to play the game and leave reviews, and more game owners are encouraged to use GPT-Play apps.

The one minor drawback of this system is that game owners collect user data, such as login information, which one might find unsafe. However, this shortcoming is trivial as the data is not personal and would only be used to show users more targeted advertisements. It's safe to say that online earning through mobile apps is child's play (pun intended).

Examples of popular GPT-Play apps are Qureka, Swagbucks, Roz Dhan, and Mode Earn (previously called Current Rewards).

Selling your pictures

Selling your pictures

Here's the simplest way to earn money through apps - the pictures you take on vacation and the photos you click during your morning walk, you can sell them and get cash in return. Mobile apps pay you to upload, sell, and resell high-quality, attractive photos in exchange for monetary benefits. You can earn at least $5 each time someone buys one of your photos. Great! Isn't it?

Shutterstock (Shutterstock Contributor on the Play Store) is an app that lets you make money by selling your photos worldwide. You can submit your photographs on the platform and get paid every time a user downloads them from Shutterstock.

Some other apps that let you sell photos are FOAP, EyeEm, Dreamstime, Etsy, and 500px.

Walking

Walking

Nothing better than getting paid to stay healthy! There are Android and iOS apps that pay their users to walk. Some apps offer reward points that can be redeemed for cash, gift cards, or branded goods, while others help you with fundraising and collecting an amount for charity donations. Apps like Weight Loss Bet HealthyWage also let you participate in fitness challenges and earn rewards.

Other similar apps that pay you to walk include SweatCoin, StepBet, MapMyFitness, and StepSetGo.

Selling your old stuff

Selling your old stuff

If you have a lot of things that you no longer use, it's a good option to give them up, especially in exchange for money. An example of such an app is BookScouter, where you can sell your old books - textbooks, novels, and other used books. All you have to do is enter the ISBN. The app will quote the price from different vendors, and you can choose the best price to sell.

Similarly, you can sell other stuff on apps like FreeUp, Letgo, and Poshmark.

Using Sikka Pro

Using Sikka Pro

We all wouldn't mind some extra cash... and it comes easily with Sikka Pro. An upgraded and much-advanced version of Sikka, Sikka Pro is highly rewarding with multiple ways to earn money.

The app uses techniques such as refer-and-earn and spin-and-win to help you earn. In addition, you can win rewards by playing games and performing other tasks as simple as just checking into the app every day. The rewards you collect can be credited to your or your bank account.
This side hustle from your phone may not make a huge difference, but it can undoubtedly help to make ends meet during a month-end. And with no investments involved, it's definitely a great deal! So, what are you waiting for? It's time to turn your everyday activities into productive tasks and earn money through mobile apps!
Get high-paying offers and start earning today!
Similar Blogs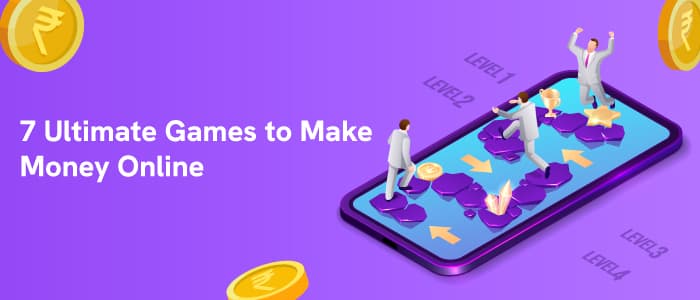 Jun 2023
Online games have always been a source of entertainment but today, they have transformed into a popular way to make money. Online earning apps enable players to earn substantial money while doing what they love the most- playing.