How to earn real money online
Sukanya VS
Published on June 28, 2023
Earning money online has become the most widely used option by those looking to supplement their income. People who are looking to make quick and easy cash from the comfort of their homes are increasing daily and these apps have provided a proper channel for earning money online. There are gaming and cash-making apps that enable users to earn real money online with ease.
These apps range from gambling games to quiz apps and survey apps. Some websites would help achieve this goal. The app market is getting filled with various such apps on a daily bases. So it is important to know which apps are trustworthy and will yield credible results.
We have curated a list of apps that have made earning real money online easy and accessible to all individuals.
8 best apps to earn real money online
Adda52:

Cost: Free

Supported on: Android and iOS




Adda52 is a popular game that is quite similar to poker. You will get the opportunity to play poker in real-time with numerous opponents. Players are rewarded with in-game points called Poker Game points. Apart from this, you will get to win points daily by attempting a variety of free tasks. Adda52 hosts many variants of poker like Crazy Pineapple, Texas Hold'em, and 5 Card PLO.

Another noteworthy feature of this app is that it gives an instant bonus when you sign up, enabling you to use your poker chips as soon as you install the game. The points you earn can be redeemed manually or automatically as well.

Gamethon

Cost: Free

Supported on: All Windows and Apple PCs




Gamethon is a free website that has made the process of earning real money online easy. Childhood favorites like 8 Ball Pool, Ludo, Solitaire, UNO, Basketball, and more are available on this platform. These games enable you to earn points online. These points can be redeemed as cash by clicking on the "Withdraw cash" tab.

By offering tons of traditional games to play, Gamethon has proven to be one of the best websites that have made gameplay a lucrative activity.

Sikka:

Cost: Free

Supported on: Android




Sikka is a well-known earning app that has made earning real money online simple. "Daily check-in" is an option that allows you to check in to the app every day, and complete tasks to gain in-app coins called "Sikkas". You can also try your luck at the "Spin and win" feature, which lets you spin the wheel multiple times in a day and take back exciting prices.

There is also Sikka Pro, an advanced version of the app that you will have to pay for. It has a referral program that allows you to refer your friends or family and earn 50 percent of their earnings.

Taurus:

Cost: Free

Supported on: Android and iOS




The Taurus app helps users earn real money through various methods. Whether you prefer playing games or completing tasks, this app has you covered. With just five minutes of gameplay, you can start earning commission directly. Every referral you make is also an opportunity to earn money.

The Taurus App allows users to earn a commission while enjoying their favorite games. By simply playing games for a few minutes, users can accumulate commission in real-time. You also have the option of redeeming your points through UPI or bank transfer.

Swagbucks:

Cost: Free

Supported on: Android and iOS




Swagbucks is a well-known app that has empowered many users to make real money online on the go. It is the go-to platform for paid surveys, offering an extensive selection of engaging quizzes and generous payouts for each completed survey. Swagbucks is also known for its impressive array of rewards like over 10,000 free gift cards that can be redeemed by users everyday.

The app also provides opportunities to try new apps and mobile games risk-free, with members receiving exclusive access to new products and services, earning substantial rewards in the process. Additionally, Swagbucks offers cashback on purchases made at your favorite retailers.

CashBaron:

Cost: Free

Supported on: Android and iOS




CashBaron is one of the most popular apps that is ideal for earning real money online. CashBaron understands the power of networks and offers bonus rewards for referring friends to the app. When your friends start using CashBaron, you receive additional rewards based on their earnings.

CashBaron also offers a range of game offers and surveys. Select the ones that interest you and complete them to earn money and rewards. If you enjoy playing mobile games, CashBaron provides an exciting avenue to earn money while doing what you love. By accepting game offers and downloading the games through the app, you can earn up to $100 per game. Once you accumulate enough in-app points, you can cash out your winnings through PayPal or choose from a selection of gift cards. CashBaron ensures a seamless withdrawal process, allowing you to enjoy your hard-earned rewards.

Rupiyo:

Cost: Free

Supported on: Android and iOS




Rupiyo is a popular online earning app that allows you to earn instant cash daily in a snap. Much like the other apps, Rupiyo also has multiple tasks that require completion for you to gain rewards. Rupiyo offers various surveys on numerous topics that you can answer to gain rewards. For every survey you complete, the app offers Rupiyo coins that can be redeemed for real cash. Additionally, the app offers multiple games that are easy and fun, providing more opportunities to make money.

Zupee:

Cost: Free

Supported on: Android and iOS




Zupee is a mobile gaming platform that allows players to win cash on Paytm by allowing them to play simple games. You will be presented with a series of questions on various topics everyday. If you answer them correctly, you will be rewarded with cash in your Paytm wallet.

Zupee has an array of over 500 topics to choose from and play with. You can also opt to play many small games like quizzes, carrom, Ludo, and more. The game also offers the option of easily withdrawing your cash from UPI.
Last words
All the apps we discussed above come with their own set of unique features and benefits. These apps have made it possible to earn real money online by empowering you to perform activities you like- gaming, providing opinions through surveys, participating in cashback programs, or engaging in various tasks.
However, it is important to note that though all these apps offer real cash-earning opportunities, the amount you earn depends on individual effort, time invested, and market conditions. It is important to be realistic while using these apps and to review the terms and conditions carefully.
So exert caution, install these apps, and start leveraging the power of technology. Unlock your earning potential with these eight apps to make real cash online.
Similar Blogs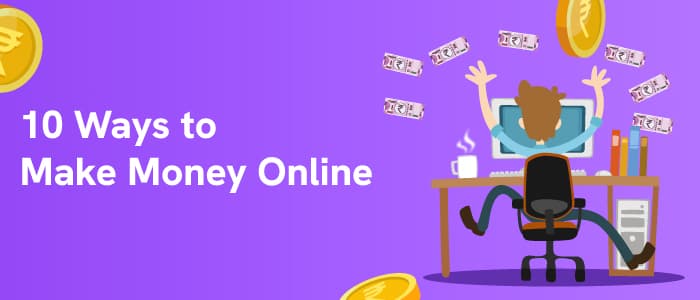 Jun 2023
Technological advancements and the internet have permeated every aspect of our lives. From shopping and job hunting to earning money, the Internet has become a ubiquitous tool for financial freedom and has provided many alternate sources of earning.