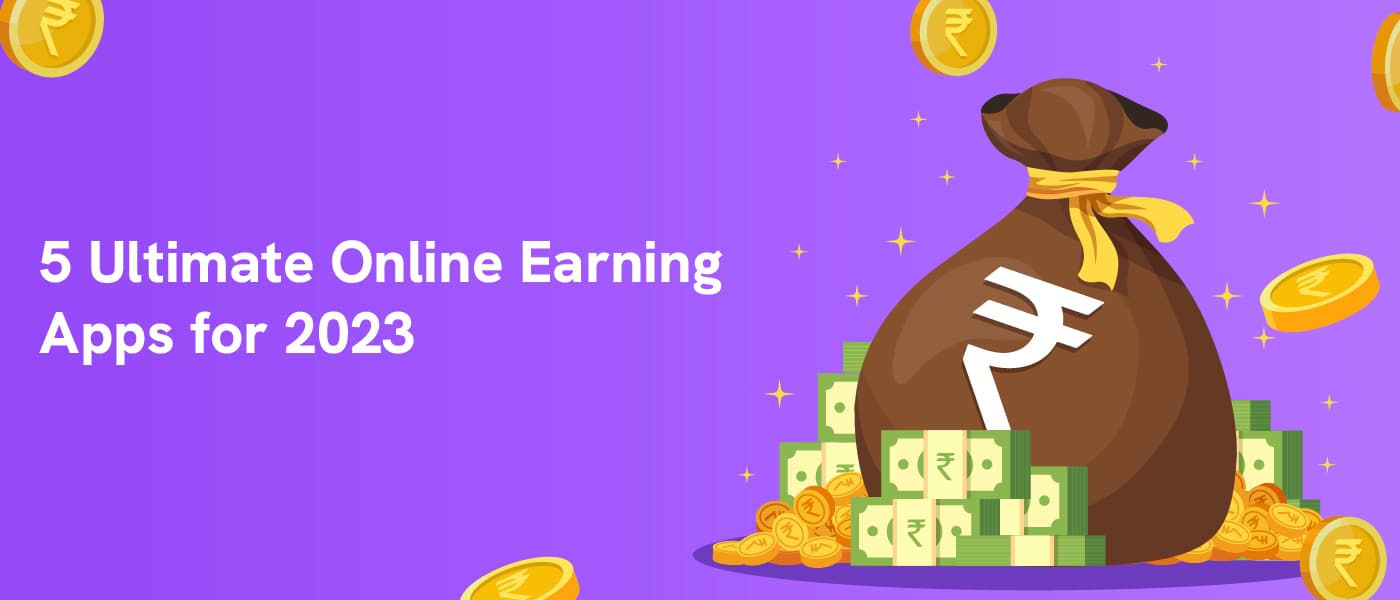 5 Ultimate Online Earning Apps for 2023
Sabqat Ruba
Published on May 12, 2023
Online earning apps are increasingly gaining popularity as quick methods to make money online. By allowing users to earn money easily with the flick of a wrist, these apps have financially empowered people from many walks of life. With the gig economy growing every day and the demand for remote work arrangements, automated and online earning apps have become the ideal option for people looking to supplement their income. In this article, we will explore the 5 ultimate online earning apps that can help you make easy cash online and achieve your financial goals.
What are online earning apps
Online earning apps allow you to make more cash by completing various tasks, playing simple games, watching short videos, referring the app to friends, filling out surveys, and more. These apps provide a convenient and effortless way to earn extra income from the comfort of your home.
Whether you are seeking to pay off a debt, save for a big purchase or add to your income, these online earning apps will help you gain financial freedom.
Additionally, these apps are ideal since they require no skill or expertise to earn money. They also have low or no entry barriers since most earning apps are free to download. These apps are a great way to earn money on your own terms. You have the freedom to choose which tasks to complete and when. This feature allows you to fit these earning opportunities into your schedule. These advantages make online earning apps widely accessible to many people who may not have many job opportunities available.
Best Free Online Earning Apps to Explore
Sikka

Cost: Free

Supported on: Android
Sikka is a popular online earning app that has made making cash online easy. By completing a set of simple yet exciting tasks, Sikka can yield you huge rewards. "Daily check-in" is an option that allows you to check-in to the app every day, and complete tasks to gain in-app coins called "Sikkas". You can also try your luck at the "Spin and win" feature, which lets you spin the wheel multiple times in a day and take back exciting prices. There is also Sikka Pro, an advanced version of the app that you will have to pay for. It has a referral program that allows you to refer your friends or family and earn 50 percent of their earnings. It also enables you to withdraw more money than usual and hosts new free games.
Chillar

Cost: Free

Supported on: Android
Chillar is one of the easiest online earnings apps to operate in the app market. It has many in-app offers that you can avail of and earn money with. As you complete more fun tasks on this app, you will accumulate more coins or "Chillars" in your wallet. These Chillars can be redeemed as real cash as well. As per the app's policy, for every 10 Chillars you make, you will earn ₹1 in cash. The Chillars will get credited to your account as soon as the app gets confirmation that you have completed all the steps mentioned in the offers. This amount can be redeemed easily on your UPI ID after you link it with the app.
Rupiyo

Cost: Free

Supported on: Android
Rupiyo is a popular online earning app that allows you to earn instant cash daily in a snap. Much like the other apps, Rupiyo also has multiple tasks that require completion for you to gain rewards. Rupiyo offers various surveys on numerous topics that you can answer to gain rewards. For every survey you complete, the app offers Rupiyo coins that can be redeemed for real cash. Additionally, the app offers multiple games that are easy and fun, providing more opportunities to make money.
MoneyHi

Cost: Free

Supported on: Android
MoneyHi is an online earning app that allows effortless access to instant cash, for people who seek to make easy money in their free time. Once you create an account with MoneyHi, visit the app every day and earn money with the multiple offers on the app. The app also has a lucky spin feature where you can spin a wheel and take away exciting prices. Additionally, the app allows you to earn through referrals. Each time you refer MoneyHi to a friend or family and they complete 3 offers, you will earn a significant percentage of the profit. You can also redeem the MoneyHi points as actual cash once you link your UPI ID with MoneyHi.
InCash

Cost: Free

Supported on: Android
In Cash is a widely used online earning app that has enabled making free money both easy and fun. Login to this app, be greeted by new offers, and earn exciting prices every day. This app also allows you to try your luck at "Spin the Wheel" and win prizes once every 6 hours. You also have the option of sharing referral codes with your contacts and thus, helping a wider audience learn of this free-earning app. Most importantly, you have the option of earning cash rewards every time you win a significant amount.
Cash apps and free-earning apps have made a comeback after diversification of income became a priority. These apps have provided users with a simple and effective way to make money online. With these real money-making apps, it has become easy to have a sustainable so urce of income and strong savings.
Be sure to try out the above-mentioned apps and take your earnings to the next level!
Similar Blogs

May 2023
Did you know you can make money through apps? There are countless apps on the Google Play Store and App Store that can help you earn money with a few flexes of your fingers. You can play games, answer questions, watch videos, or perform other simple tasks to gain monetary rewards. And the best part is that it takes zero investment! Could earning money get any easier? We don't think so.