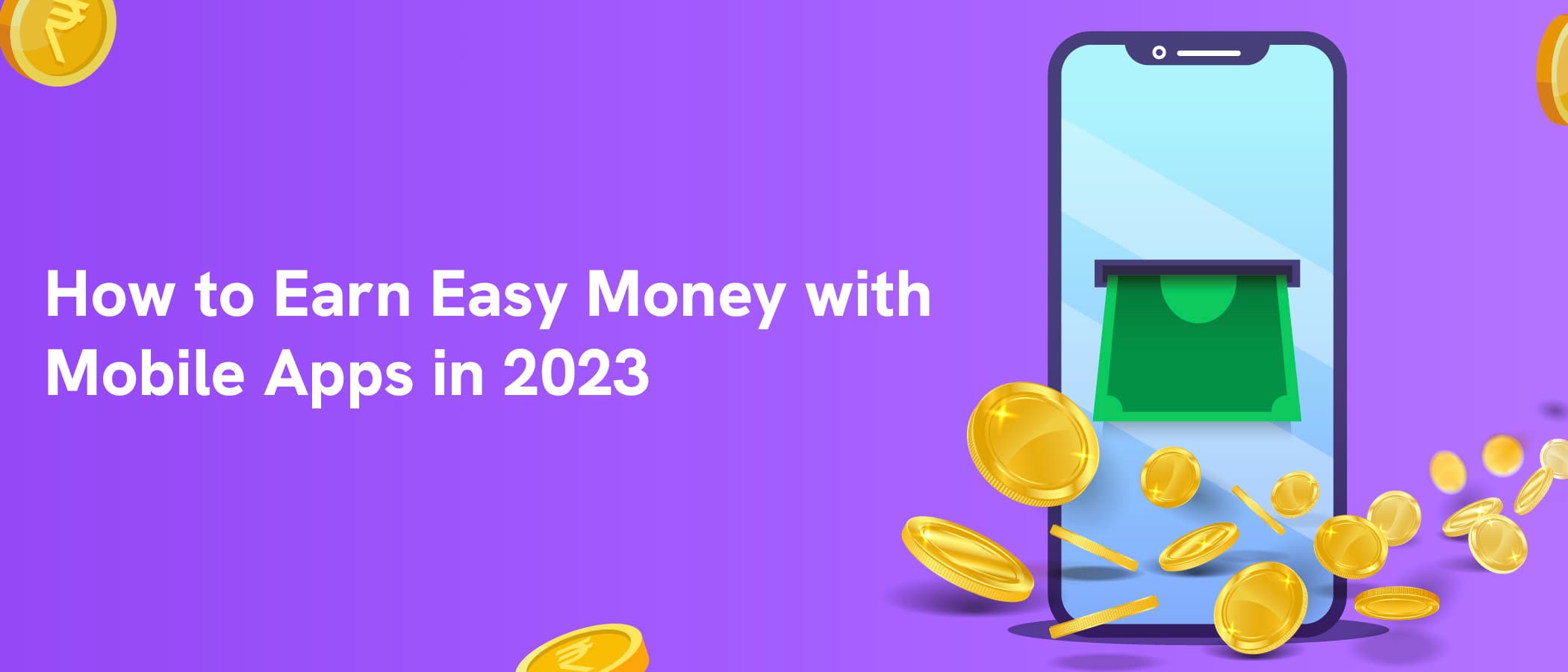 How to Earn Easy Money with Mobile Apps in 2023
Sukanya VS
Published on May 22, 2023
Today's world has become increasingly digitized and technology has made its way into all our lives. Starting from communication to shopping for groceries, technology has ensured that it can all be done with a flick of our wrists. Making money online has also become an easy task since there are numerous apps in the marketplace to facilitate that. This has become exceptionally simple with the coming of free money-earning apps.
Digitization has made it easy for many to earn free cash online. The success of cash apps can be attributed to the soaring popularity and necessity of mobile devices, the rise of the gig economy, and an increase in remote working opportunities. If you are a student who wants to make some extra cash or a freelancer who could always use the extra money, then mobile earning apps have you covered. In this article, we will talk about the best free money-earning apps in the market.
10 most popular money-earning apps
Mobile cash apps have become popular since they are accessible to a wide range of people. Additionally, they enable you to make money from the comfort of your home. You also do not need any special skill set that a traditional job would demand, to complete the tasks that these apps require you to do.
Some of the best free money-earning apps are as follows.
Sikka

Cost: Free

Supported on: Android
Sikka is one of the best free money-earning apps in the app market. It has made online earning easy by setting up a few simple tasks that you can complete with ease. You get to win rewards simply by visiting the app once daily as per its "Daily check-in" feature. You can also try your luck at the "Spin and Win" game. This feature allows you to spin a wheel and walk home with fun prizes. Sikka also has a referral program that pays you money if you refer the app to a friend or family member. By allowing you to redeem your Sikka coins as real cash, Sikka has made making money online easy and fun.
Rupiyo

Cost: Free

Supported on: Android
Rupiyo is a popular online cash app that has enabled many to easily earn instant cash. Rupiyo has set up multiple tasks that you can complete and gain rewards. Rupiyo also has many surveys on various topics that you can take. Completion of each survey will yield fun rewards and points. You can link this app to your UPI account and when you make enough coins, you can redeem them for actual cash. The app also has many exciting games that you can try your hand at and make money with, making it one of the best free money-earning apps.
Meesho

Cost: Free

Supported on: Android and iOS
Meesho is known widely as a fashion e-commerce app but it is also a popular earning app. On Meesho, you can register yourself as a seller or a reseller. By using social media apps like Whatsapp or Facebook, you can sell or resell fashion or lifestyle products. Once you share these items on your social media and start getting queries about them, you can share your prices and shipping cost. Once the product is sold, the profit you incur and the shipping costs will directly be sent to your bank account. This makes Meesho an easy and free money-earning app.
Coupon Dunia

Cost: Free

Supported on: Android
Saving is an indirect way of earning and that is the logic Coupon Dunia works by. CouponDunia has curated the most trending cashback offers, discounts, and exclusive coupon codes from top brands. These offers can be availed when you decide to shop with one of the brands CouponDunia has partnered with. You can also refer this app to a family or friend and 10 percent cashback on their earnings. This app allows you to share links to various products with others and helps you get cashback when someone shops via the link you shared. You can also participate in the exciting contests that CouponDunia hosts and win fun rewards and cashback. You can link your bank account and redeem the offers as real money. CouponDunia has become one of the best free money apps online by integrating shopping with earning opportunities.
PhonePe

Cost: Free

Supported on: Android and iOS
Primarily used as a transaction app, PhonePe has swiftly become one of the most popular free-earning apps in India. Introduced by Flipkart to make transactions easier, PhonePe has partnered with over 100 banks and has made UPI transactions simple. On every transaction, you will earn exciting coupons, rewards, or cash back. You also have the option to refer the app to a friend or family. For every successful referral, you stand to make anywhere between ₹100 to ₹200. The cashback you receive on your PhonePe wallet can be directly transferred to your bank account and withdrawn, making PhonePe one of the best free money-earning apps.
Rush

Cost: Free

Supported on: Android and iOS
Rush is a fun online free money-making app and it has managed to combine nostalgic games with earning opportunities. Rush has many exciting games like Speed Ludo, Carrom Freestyle, and numerous quizzes. You can participate in these games and make money as you play with players from various geographies. Rush also allows you to share the fun by referring the app to your friends and family. You get to earn more cash for every successful referral you make. You also get to invest in NFTs on Rush and watch your investments grow into fruitful rewards. Finally, you can link your UPI or bank account to Rush and get instant cash withdrawals.
MooCash

Cost: Free

Supported on: Android
MooCash is a widely popular and best free money app in the market that has made earning cash online quite simple. It has various tasks that you can complete to earn cash offers. The app also presents many videos which you can watch and earn fun rewards. You can also refer your friends to the app and earn a bonus of 30 coins for each successful referral. Every 1000 coins in MooCash is equal to $1 in real cash. Once you have a minimum of 2000 MooCash coins, you can cash it in for prizes. The app also offers many surveys and games you can participate in and win multiple prizes.
InCash

Cost: Free

Supported on: Android
In Cash is a widely used online earning app that has enabled making free money both easy and fun. Login to this app, be greeted by new offers, and earn exciting prices every day. This app also allows you to try your luck at "Spin the Wheel" and win prizes once every 6 hours. You also have the option of sharing referral codes with your contacts and thus, helping a wider audience learn of this free-earning app. Most importantly, you have the option of earning cash rewards every time you win a significant amount.
Roz Dhan

Cost: Free

Supported on: Android
Roz Dhan is a fun and easy money-making app that has become increasingly popular in the app market. This app will pay you ₹50 for registering and another ₹50 for completing the initial set of tasks once you join the app. For every successful referral you make, you will gain ₹12 which will be deposited into your Paytm account. Roz Dhan offers a wide range of free games and various surveys you can participate in and take back numerous rewards. Apart from these activities, Roz Dhan also offers many unconventional opportunities to earn money. You can read your daily horoscope, walk and count your steps and even read the news to earn extra cash. The "Instant Cash Tasks" enable you to redeem your points for actual cash once you complete the tasks. This makes Roz Dhan one of the best free money-earning apps.
Google Opinion Rewards

Cost: Free

Supported on: Android
Google Opinion Rewards is one of the best free money-earning apps online. You can earn money with ease by answering simple questions. The app is filled with many market research queries. You can choose your topic of preference and answer accordingly. You will be asked to choose your location and the kinds of surveys that pique your interest. The app will alert you when a survey that suits your preference is ready. You can go on ahead, answer and earn cash. For each survey you complete, you will receive $1.
As technology has reached new heights, our reliance on mobile apps has increased as well, and so has our need for supplementary income. These mobile apps provide the ideal way to make cash even if you do not have a steady paycheck. So be sure to check out the above-mentioned apps and earn cash every day with ease.
Similar Blogs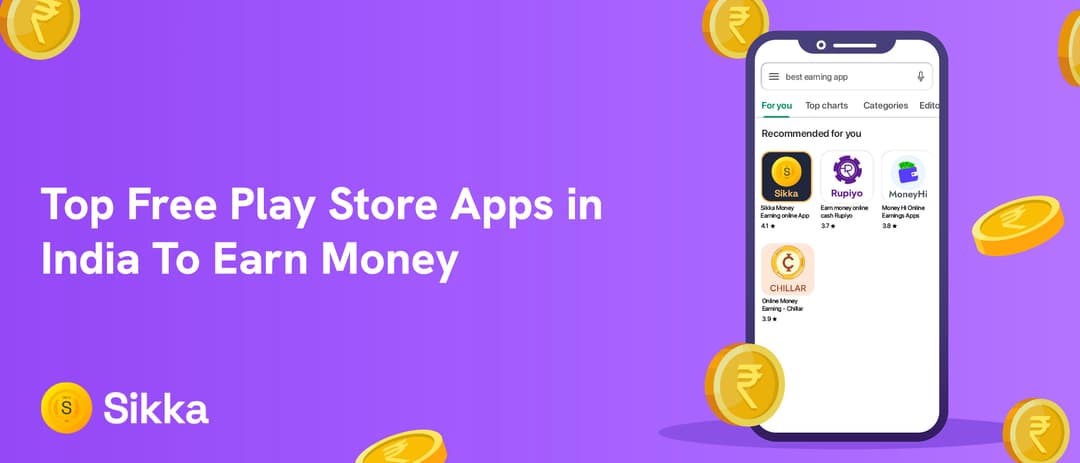 May 2023
Did you know you can make money through apps? There are countless apps on the Google Play Store and App Store that can help you earn money with a few flexes of your fingers. You can play games, answer questions, watch videos, or perform other simple tasks to gain monetary rewards. And the best part is that it takes zero investment! Could earning money get any easier? We don't think so.