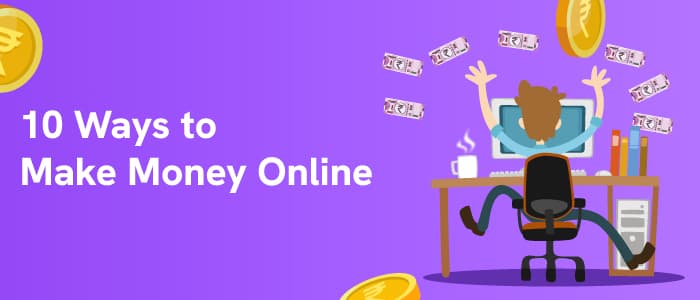 10 Ways to Make Money Online
Sukanya VS
Published on June 23, 2023
Technological advancements and the internet have permeated every aspect of our lives. From shopping and job hunting to earning money, the Internet has become a ubiquitous tool for financial freedom and has provided many alternate sources of earning.
The allure of online income originates from its accessibility, flexibility, and convenience of remote work. By democratizing the playing field, the Internet has allowed individuals from various backgrounds to tap into the global marketplace and earn.
In this article, we will discuss the various ways to make money online and explore ways to make online earnings a sustainable source of income for all remote workers.
10 ultimate ways to make money online
Freelance work:

Finding freelance work online is a lucrative form of earning. Freelance gigs have a wide range and you can apply for a job based on your skillset or interests. Writing, editing, video editing, data entry, designing, and programming are just some avenues you can explore.

Freelance gigs pay after each job, unlike a full-time or contractual job which pays at the end of the month. Since most of the transactions occur online, the need to be physically present at an office is done away with. There are multiple platforms like Fiverr and Upwork where you can register yourself as a freelancer and get orders from clients online.

Taking surveys:

Online surveys are another effective and easy way to earn money. Many companies, especially research organizations, wish to learn what the general public thinks. These opinions are taken as a base for their research. So they post multiple surveys and urge people to answer generic or topic-based questions. These organizations pay the survey participants real cash through a PayPal account or gift cards.

However, online surveys yield low payoffs in cash. But they are an excellent option to earn gifts or rewards. Websites like Swagbucks and Survey Junkie are good websites that offer many surveys.

Participating in focus groups:

Focus groups, much like online surveys, are another research method that pays participants who take part in them. These focus groups are put together by research analysts who seek to test out various hypotheses with various focus groups. Focus group activities can range from taking online surveys to simple quizzes.

Respondent and User Interviews are two well-known domains where you can register yourself as a focus group member and make money online with ease.

Start a YouTube channel:

YouTube, being one of the most widely used sources of entertainment, is also a helpful channel to make easy money online. There are multiple ways to do so.

Popularly, YouTubers link their channels with the AdSense app. So when an ad is played on their channel, they get monetized. Another way is to promote products or services in your channel directly. You can monetize your video if it brings many likes and views. You can also get paid by the sponsor for promoting their product or service.

Offer consulting services:

Online consulting services have emerged as a lucrative earning strategy. By offering consulting services, you can capitalize on your expertise and skills. Regardless of where your talents lie, there is always an audience looking to learn, upskill and take mentorship. By registering yourself as a consultant, you can position yourself as a valuable resource. You also have the autonomy to plan your schedule and choose clients. This allows you to have a healthy work-life balance.

The internet has also eliminated geographical barriers so it is easy to gain global reach and have a wide client base.

Create and sell courses online:

Creating courses in your areas of expertise and educating people is a sound strategy to make money online. It involves low overhead costs with minimal investment in equipment and software.

This is also a way to share your unique perspectives and opinions with the world and teach others in your distinctive style. It also helps you build your brand and help yourself stand out in your niche.

Sell or resell products online:

The rise of e-commerce and the internet has changed the way people buy and sell goods. Selling or reselling products is an effective online money-making strategy. By entering the online selling landscape, you can tap into the vast e-commerce market and reach a wider audience.

The online marketplace has opened up the scope for selling any item through the Internet. From new products, and handmade articles to used products, you can put any good for sale. You also have the option of selling or reselling goods on your own terms. You have control over your inventory, working hours, and the option to explore different markets.

Develop an app:

Mobile applications have become an integral part of our lives and present a huge opportunity for people seeking to make money online. Developing and monetizing an app is an effective way to make easy cash online.

By employing methods like in-app advertising, in-app purchases, subscriptions, freemium models, and sponsorship, app monetization has become a task that can be leveraged by everyone.

Become a virtual assistant:

Virtual assistants are extremely sought after by businesses and professionals to streamline their operations and enhance productivity. So becoming a virtual assistant is a lucrative money-earning opportunity.

Virtual assistants provide a wide range of services, making them an ideal option for individuals with diverse skill sets. This versatility allows you to cater to a broad client base and adapt to evolving market demands.

As a virtual assistant, you also have the option of choosing your working hours, clients, and projects.

Leverage cash apps:

Many apps on the internet like Rupiyo, Coupon Dunia, Sikka, and Honey can be used to make money online. By completing simple processes like registering yourself or referring a friend will help you gain in-app points. These in-app points can later be redeemed as real cash through your UPI accounts.

These apps also yield cashback on purchases you make through the app. Apart from that, they also offer daily rewards and cash.

While making money online has become easy, you also need to be cautious of any possible scams that might come your way. Research and ensure that the opportunity is legitimate. Read reviews, and ask for second opinions before you pursue an opportunity.

It is also essential to promote yourself. Make sure that you stand out among the other individuals who offer similar services as you do. Design portfolios and an air-tight resume to ensure potential clients take more interest in you.
Similar Blogs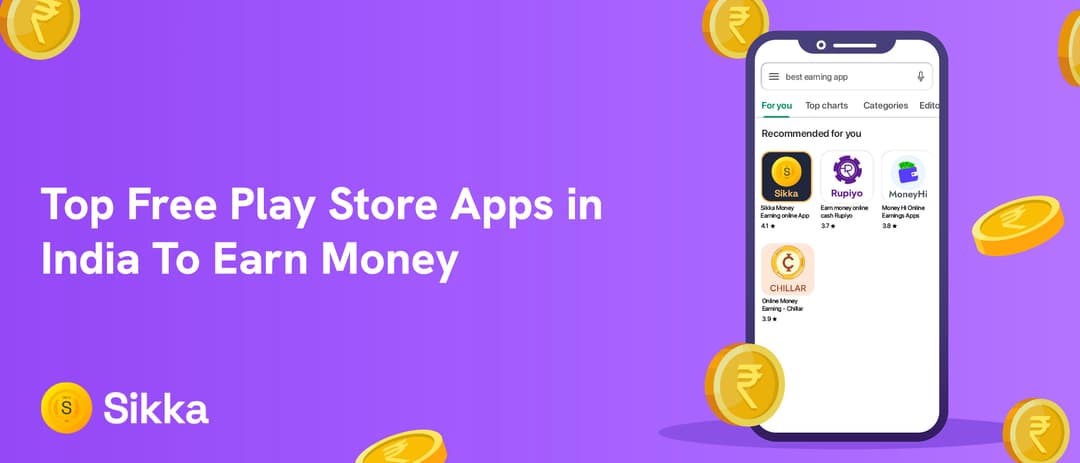 May 2023
Did you know you can make money through apps? There are countless apps on the Google Play Store and App Store that can help you earn money with a few flexes of your fingers. You can play games, answer questions, watch videos, or perform other simple tasks to gain monetary rewards. And the best part is that it takes zero investment! Could earning money get any easier? We don't think so.